WELCOME TO ALMOST HOME RESCUE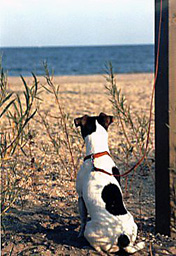 Here you will meet many dogs who are waiting to be chosen to be part of your family. Maybe you have never adopted a rescued dog or maybe you are experienced in the world of animal rescue, but whatever the case we're glad you found us. Adopting a dog that has lost his home is an extremely gratifying experience.
Every year over 8,000,000 pets are destroyed because no one wants them. We try to match some of these unfortunates with people who will open their hearts to them and give them a loving home. If you are ready to take this step, we are here to help homeless, cast off, abandoned dogs find you.  
WE NEED FOSTER HOMES
ALMOST HOME RESCUE is desperately looking for FOSTER HOMES. If you are someone who would like to foster a Jack Russell or other small terrier for us, we would love to have you contact us -- almosthomerescue@gmail.com 941-704-4765
IF YOU HAVE - 1 .Have owned and lived with a Jack Russell - have experience with the breed. 2. Have a securely fenced yard and understand that the dog is NEVER to be put out alone in the yard. 3. Have no small children 6 or under. 4. Have no cats, ferrets, rabbits or other small furry caged pets 5. Have no larger aggressive breed dogs.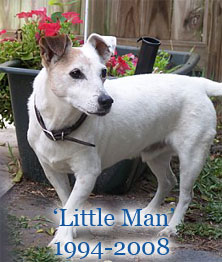 MANNY'S MISSION: THE REASON WE RESCUE
Words can't say how much we miss you Manny, but we know we will see you again. That day in 1994 when you came out of the woods begging for help, dirty and starving, and jumped in my lap, you caused a ripple effect that reaches far beyond that day in the outerbanks of NC. For us you were the beginning of saving many Jack Russell Terriers.
You were the first of the long line of abandoned, cast off, unwanted little JRT's. We will never be able to thank you enough for all you brought to our lives and to the lives of the many little terriers that have passed through our home on their way to their forever homes. We could have never been able to imagine the joy you gave us.
Thank You, God for sending this LITTLE MAN to live with us. We will try to live up to the standard of loyalty and love that he brought to us. Until we meet again at the Rainbow Bridge...MaryLu and Alex Kinlaw.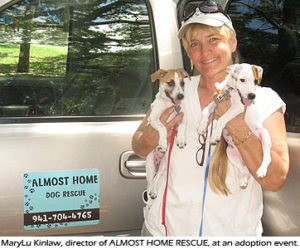 WHO IS ALMOST HOME?
Almost Home Rescue, a 501(c)3 non profit organization, was created to help rescue the many Jack Russell terriers and other dogs in shelters across Florida that need homes or will be euthanized. We predominately rescue Jack Russell terriers because there is such a need and not many rescues are willing to work with them, thus so many beautiful pure bred Jack Russell terriers are left to die in kill shelters.
At Almost Home Rescue we take them out of the shelter, have them spayed or neutered, bring them up to date on all their vaccines and they also get a microchip so they will, hopefully, never be lost. Then we put them into a loving foster home where they can live until they find their forever home.
IF YOU WOULD LIKE TO BE A FOSTER FOR A HOMELESS DOG, PLEASE CONTACT US. WITHOUT FOSTER HOMES WE CANNOT SAVE DOGS FROM DEATH IN THE SHELTERS. FOSTER HOMES ARE THE LIFELINE OF RESCUE!
ADOPTING A FOREVER FRIEND AND FAMILY MEMBER
The process of adopting a homeless dog from Almost Home is as follows:
To begin the process of adopting a dog from Almost Home, fill out an adoption application by clicking on ADOPT at the top of the page under the picture or scroll down and click on the ADOPTION APPLICATION link at the bottom of the page. It's a simple form - you just type in the answers in the blanks and then hit SUBMIT at the bottom of the form. That will send the completed application directly to us to be reviewed. If you have any problem with the form feel free to call and we will talk you through it. If you don't hear back from someone within 24 hours, please call and ask if we have received your application, as the internet isn't completely foolproof, and we wouldn't want to miss the opportunity to help you adopt a dog!

After your application has been reviewed someone from Almost Home will call you. Make sure you fill out the complete application and don't leave anything out. Please feel free to call at anytime, especially if you don't receive a call back. 941-704-4765

The next step is for a volunteer to schedule a home visit. This is for verification of the fence safety and security for the dog. We like to meet your family and your pets in person to match the right dog with the right family.
We hope you understand that we at Almost Home only want the BEST for every dog that we adopt into a home and we try to choose the BEST home for each dog.
ALMOST HOME RESCUE
PO Box 213
Terra Ceia, FL 34250
Phone: 941-704-4765
Email: AlmostHomeRescue2@yahoo.com
Almost Home Dog Rescue, Inc. is registered with the  Florida Department of Agriculture and Consumer Services as a charitable organization, and as such is authorized to solicit contributions. "A COPY OF THE OFFICIAL REGISTRATION AND FINANCIAL INFORMATION MAY BE OBTAINED FROM THE DIVISION OF CONSUMER SERVICES BY CALLING TOLL-FREE WITHIN THE STATE. REGISTRATION DOES NOT IMPLY ENDORSEMENT, APPROVAL OR RECOMMENDATION BY THE STATE." 1-800-HELP-FLA (435-7352) www.FloridaConsumerHelp.com
Almost Home Dog Rescue, Inc. License #: CH28454